TOP PRODUCER GROUP CERTIFIED REAL ESTATE MARKETING EXPERT
Top Producer Group Certified Real Estate Marketing Expert members are devoted to a shared vision of putting customers first. Every customer across the globe must feel heard and be responded to instantly using new systems, strategies, and marketing tools.
Whether you are an experienced seller listing a $10,000,000 luxury property, a seasoned investor, or a young buyer looking for your first home, this group will put you first and get the job done.
Top Producer Group Certified Real Estate Marketing Expert Agents have implemented all top 10 systems during rigorous training. This unique set of integrated technology skills gives you the edge.
1.  CERTIFIED ONLINE MARKETING EXPERT
First, agents create websites that put buyers first.
 "Agents optimize all pages for SEO & PPC to find buyers."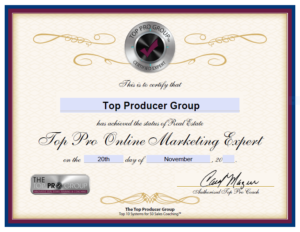 Certified Marketing Experts must build an advanced real estate website on a framework utilizing on average of eight times higher lead conversion techniques than standard websites.
---
2.  CERTIFIED COMMUNICATION EXPERT 
Next, add systems to communicate with buyers and sellers.
"Weekly custom buyer follow up for at least 2 years."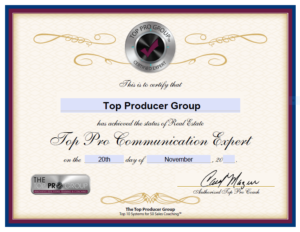 Agents create landing pages for communication tools and worldwide exposure of seller's listings and maximum exposure.
---
3.  CERTIFIED SOCIAL MEDIA EXPERT
Agents show listings & make appointments internationally.
"Your property can easily be found by billions of people."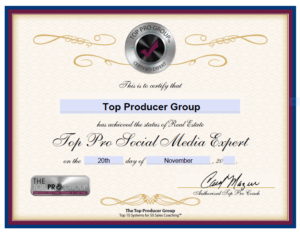 Social Media Listing Conversion Pages become communication tools for worldwide exposure of seller's listings. Advanced Facebook, Twitter, YouTube, and LinkedIn techniques.
---
4.  CERTIFIED WEB LEADS EXPERT
Agents import Zillow – Realtor..com – Trulia buyers to website.
"Agents make sure all systems talk to each other."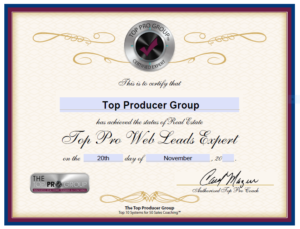 API – Application program interface uses a sets, routines, protocols, and tools for connecting software applications. Agents interact globally with customers using software components.
---
5.  CERTIFIED EXPIRED LISTING EXPERT
Agents are trained to recommend ways to get expired listings more.
"Special training proven to get sellers up to 21% more"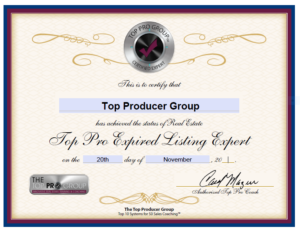 Agents walk through the property and recommend items on a checklist to be added or deleted from the property and suggest proven marketing ideas & improvements.
---
6.  CERTIFIED FOR SALE BY OWNER EXPERT
Agents help FSBO's price their home right and sell for more.
"The main thing is to not let anyone steal the home for less."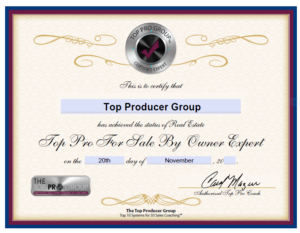 For Sale By Owners must sell their homes for less historically. Our agents are trained to get For Sale By Owners more when they sell their property.
---
7.  CERTIFIED NEIGHBORHOOD EXPERT
Agents respond to requests for homes by routing leads.
"All Calendars must sync appointments & clients to mobile."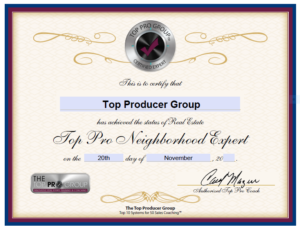 Neighborhood software which allows you to extract data from … such as buyer requests, contact form e-mails, and e-mails sent by lead third party providers and find homes for buyers.
---
8.  TOP PRO CERTIFIED BUYER EXPERT
Every customer's contact info is in the palm of their hand.
 "Complete email history on every customer worldwide."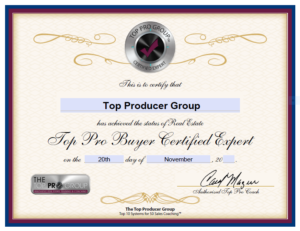 Agents have real time conversations with customers worldwide. Organization of customers, automated closing plans, and conversations get transactions to the closing table.
---
9.  TOP PRO CERTIFIED SELLER EXPERT
Agents also use text messaging for immediate response.
"Answering all buyer requests in less than 5 minutes."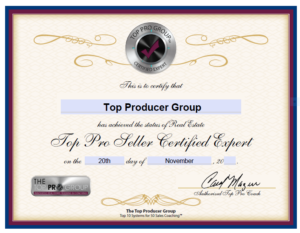 Text or return calls for listings in one click from mobile device to instantly set appointments. Buyer lead conversion increase of 900% to obtain buyers for sellers homes sellers.
---
 10.
DIRECT MAIL MARKETING EXPERT
Last, agents create top marketing materials that sell homes.
"Top Producers use proven to work marketing materials."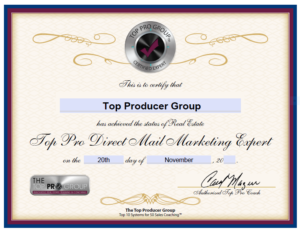 Focused Marketing offers drive traffic online and to phone, email, text, social media, and website to exchange value for contact information & appointments. 
---
*FIND A CERTIFIED EXPERT NEAR YOU
Request a Top Producer Group Certified Expert, today.
"Coach Carol Mazur – text or call 908-600-7002."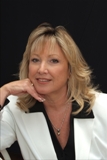 Sellers, to find out if your agent is a Top Producer Group Certified Real Estate Marketing Expert or to request a Top Producer Group Certified Real Estate Expert in your area trained to sell your home for top dollar or help you buy.
We will gladly show you why the agents that make it through this rigorous training have so much higher levels of success. Hiring a Top Producer Group Certified Marketing Expert will help you reach your goals in finding and owning a great home, investing in real estate, and in selling your property for top dollar.
Contact us or text 908-600-7002, now.
"We just sold the highest priced home in the history of the entire neighborhood!" – Top Pro Client
Agents, for more information on becoming a member of our Top Pro Mastermind request a free strategy call. We will discuss what you need to do to you qualify to become a member of this elite customer first advanced marketing Top Producer Group.