Online Lead Generator Performance Stats
Are you asking yourself if you should you use Facebook or Twitter to direct real estate leads to visit your website? Are you considering purchasing leads from Homes.com, Trulia, or Realtor.com? Check out these stats from Real Trends. They show some interesting online lead generator performance stats back in 2012.
Listing Aggregators, Statistics and Online Performance? Your Thoughts. | Real Trends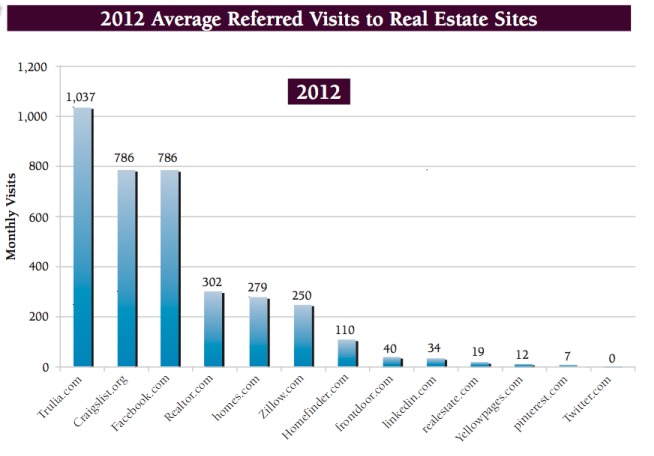 There is an art to online lead generating. We have been taught not to self promote (sometimes by the biggest self promoters in the industry). Yet when we study online lead generator performance stats it is easy to see that there are many "middlemen" telling us to send social media customers to their websites. This is a 2014 update to this post.
In 2014 we intend to be more proactive in our lead generation. If we can leave out the middlemen and send the leads directly form our social media sites back to our websites we feel our own performance stats will go up. This takes a certain amount of "self promotion" and flexible websites.
Online Lead Generator Performance Stats
It's still all about offering value yet with Facebook business pages only showing about 20% of your posts we need to get more creative when it comes to sharing our own content. Right now we let other sites share our content and then buy it back from them. Is it time to take back control of some of our content.
I am sure this will upset some third party services, yet wouldn't it be nice to let the pubic know what we do for a living? In fact, don't you think the public thinks it is strange that you don't ever directly promote listings or your real estate services?
I'll be brave and go first. Here is my value added self promotion. Let's see if I lose all of my "friends". Contact us to schedule a free 15 minute Real Estate Coaching Call.

Now it's your turn. I dare you to post a listing or two on Twitter or Facebook with a link back to your website. Test to see if you lose all of your followers. Start slow, like Gary Vee says, one every 10th post. (Now don't go crazy and over do it.)
Fore more Real Estate Coaching Tips and Secrets subscribe to our newsletter on the top right, today
Online Lead Generator Performance Stats