REAL ESTATE EMAIL LEAD CONVERSION TIPS
Is Your Real Estate Email Marketing Causing You To Fail? Take a look at these messages from our own email folder that never made it to our inbox. Are your real estate email marketing messages getting delivered? Have you checked using a different email address? Get your email into in-boxes by watching these simple email Top Pro Secrets.
These real estate email lead conversion tips are not about showing you how to whitelist your email. It is more. This unlisted real estate coaching video shows you, our top pro group, how to optimize and test the your email so that it is delivered to Outlook and smartphones and the rest of your email clients.
ADVANCED REAL ESTATE LEAD CONVERSION TIPS
These real estate lead conversion tips from Wordtracker are a bit complex but can be used as a reference guide when you are ready to tackle these areas of website lead conversion.  Here is an excerpt and a link to the entire article.

– The headline on a page is very important when it comes to conversion, as too are the headines on forms that your users fill up. Removing 'company' as a field can increase conversions on form submissions by 20%.
Bryan Eisenberg


– Ask yourself: is the page relevant? Does it show value and is the user confident to take action?
Bryan Eisenberg

– Tell the truth, but make the truth fascinating.
David Ogilvy

– Changing the wording on a button from 'Learn more' to 'Help me choose' resulted in millions of dollars in uplift for Dell.
Bryan Eisenberg

Small changes can result in major real estate lead conversion success! Have you tested your email?

REAL ESTATE EMAIL LEAD CONVERSION TIPS
Real Estate Coaching Tip: Take a moment and test your email marketing messages. Are they making it into your customers inboxes?
$nbsp;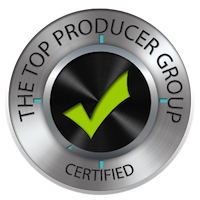 Thanks WordTracker for theses great real estate coaching lead conversion tips!
Real Estate Coach: The Top Producer Group, LLC

Follow
Carol Mazur on Google+!