ActiveRain conducted a survey of 1,758 real estate professionals to find out what separates the top real estate professionals (those earning over $100,000 a year, we'll call them 'Rich Real Estate Agents') from the struggling real estate professionals (those earning under $35,000 a year, we'll call them 'Poor Real Estate Agents'). 379, or 22% of respondents were Rich Real Estate Agents, while 363 or 21% of respondents were Poor Real Estate Agents.
Coaching Tip:
Real estate professionals, all of these stats are great to know but remember to keep an open mind.  Facebook like other forms of branding is a bit hard to measure. Facebook is a free way of staying top of mind and maintaining relationships.
Facebook may not pay off in commission dollars for the hours you spend there but building a large following of advocates and supporters does not hurt and it's free! .  To save time have your Twitter account auto post to Facebook with subtle calls to action and watch the traffic stats rise on your website.
Yet, please remember that web traffic is not closed sales either.  In fact 95% of customers that call you will purchase from you whereas a very small percentage of web traffic comes back to you to make a purchase unless you lead lead conversion.
Take Action:
ADD your phone number to your about pages on Facebook, place your phone number with a call to action on your website and everywhere you can. Also, use a contact management system so that you can auto respond to the correct message in the right way!!  You'll close more sales and come across more professional.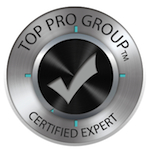 Contact Us to find out how to become an
exclusive member of our Top Pro Group.