Top Producer 8i lead manager and CRM just announced a new updated mobile app which syncs your calendar with Outlook and Gmail. The new mobile app should be available from Top Producer 8i some time in November!  This app offers real estate agents who use Top Producer 8i a wonderful solution to managing contacts and assuring platinum follow up service.
Do you want to beta test the new app for free?
The new mobile app works on a touch screen smart phone, any tablet device or on Google Chrome. Schedule an appointment on an iPhone, Droid or Blackberry and double check the appointment at home or in the office. Assistants can also log in to this as well at no extra cost. You can even check your email and set up follow up appointments from your calendar on your iPad.
Coaching Tip:
This new feature adds another level of service to your real estate business. Never miss another webinar, ACTIONAR® or appointment. Set follow up actions from your mobile phone.
Top Producer 8i offers The Top Producer Group, LLC subscribers an affiliate discount on their products and a free beta app. You will find a link and a phone contact on my favorites page. I highly recommend Top Producer 8i to real estate agents that want to become top pros now that they are offering this new much awaited Outlook and Gmail sync feature.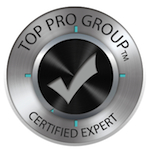 Real estate coaching & training to become a top producer pro – you know how to be a good Realtor®, now it's time for BE A PRO Coaching. Coach Carol Mazur, award winning agent, top rated sales training director on a company team that closed 3000 units annually, and success trainer & coach to hundreds helps real estate pros like YOU reach the top.

The Top Producer Group, LLC –  Coach Carol Mazur – All Rights Reserved