Today's Actionar® real estate coaching topic is time management. Take a look at what Google shows when you type in the words time management. Here's how using the power of 7 will get you more free Time – Real Estate.
The lack of time is just a fear and the more that we begin worrying about how many transactions we my not have in the future, the more we start, like that first gentlemen there on the top left in the video, feeling like we're running behind and we start running faster and faster. We get crazier and crazier and we need to just take a timeout and stop.
I want to show you the power of seven. It will help you live a better life. Take a moment each day and go into The Top Pro Center for 50 Sales and watch some of the Actionars. They are all less than seven minutes long and spent less than In seven minutes a day building your real estate business.
As you know, when Napoleon Hill studied the top leaders in American Industry they all had a common trait which was they each wrote down 6 items every day that they would commit to accomplish. So, as members of our top pro coaching group we are going to kick this up to 7 items a day that you need to accomplish, because you are Top Producers!
Find your "to do" form and write down seven items anywhere you want whether they're under urgent, important, your personal to do, or delegated. Write them exactly where they go and to whom you can delegate.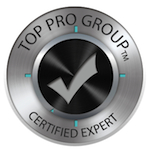 Real Estate Coaching
Take some quiet time in the morning when and where you can be alone with your thoughts and take control of your day. Those a few minutes to plan 7 accomplishments in the morning. When you write down what you want to accomplish it will change your life.
Rather than running around and doing everything for everybody else, take a moment for yourself. Write, or enter seven items daily and in 7 days, as these 7 items are accomplished each day, you will begin to take control of your time and you'll get to the top faster than you ever imagined. Soon, you will begin to live the life of a top producer. Use the power of seven it!
Warm Regards,

Carol Mazur – Top Pro Coach
P.S. Be sure to sign up for our Top Pro Newsletter, today! We'll share more of the The Top 10 Systems for 50 Sales steps in our Real Estate Coaching & Training weekly blog updates.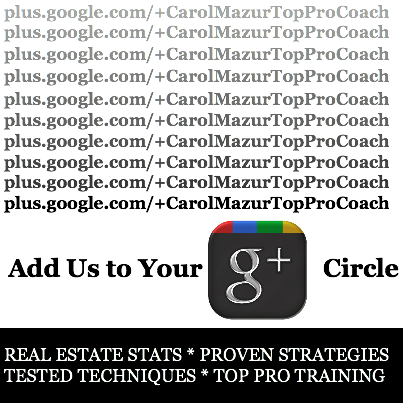 Contact Us
for more Top Pro tips, and find out how to become an exclusive member of our Top Pro Group.
Follow Carol Mazur on Google+!