This week's video is a fun one! Paul Campano, a real estate agent originally from Somerville, MA is having fun in this agent video. Campano has built a reputation specializing in high-end property sales and has achieved the designation of fine homes specialist. His video certainly depicts a fine home. Paul sold the first million-dollar condominium in East Boston, more than doubling the previous high sale, and sold the highest priced condominium ever sold in in Lynn, MA. The video is not you usual real estate agent video.
Coaching Tip:
First, add geo-targeted keywords in YouTube to get your video found, especially your city and state.
Next, decide which audience you will target in your video and title the video to match what your target audience is searching for.
Consider including a little background music in your real estate agent "how to" videos.
Match your message and the video style to the market you are targeting in your keywords – for example, you may not want to have party music in your video to short sale and foreclosure sellers.

What did you think of Paul's video? Should you have fun in your real estate videos?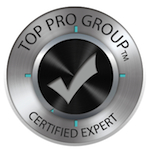 Contact Us for more Top Pro tips & secrets, and find out
how to become an exclusive member of our Top Pro Group.